Registration will open around April 10. We are currently in the process of finalizing our calculations and commissioning a registration tool. This process entails several legal and administrative hurdles, but we're working hard to make it possible for you to register as soon as possible.
Meanwhile, check out our FAQ page that already contains some information on the registration process and registration fees.
To guide you through the registration process, we have developed a step-by-step tutorial that you find below. The link to the registration platform will be added here as soon as registration has opened.
Step-by-step guide to registration
When registering, please make sure to choose the correct participant type. You will be asked to choose the correct participant type when opening the registration interface: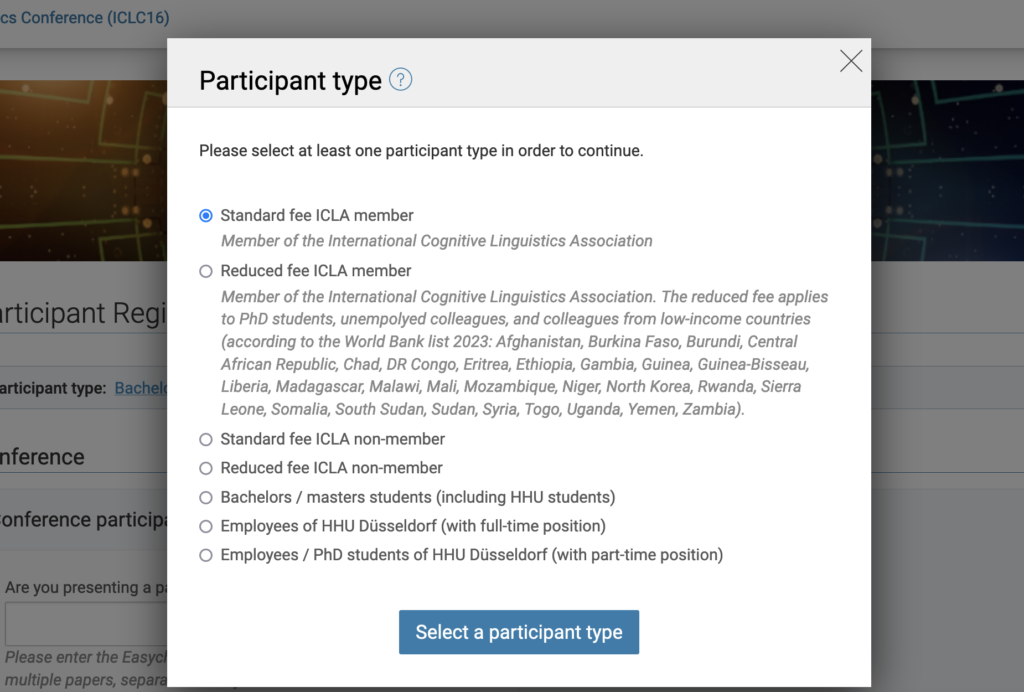 During the registration process, you can change the participant type by clicking on the selected participant type in the upper left corner of the registration interface.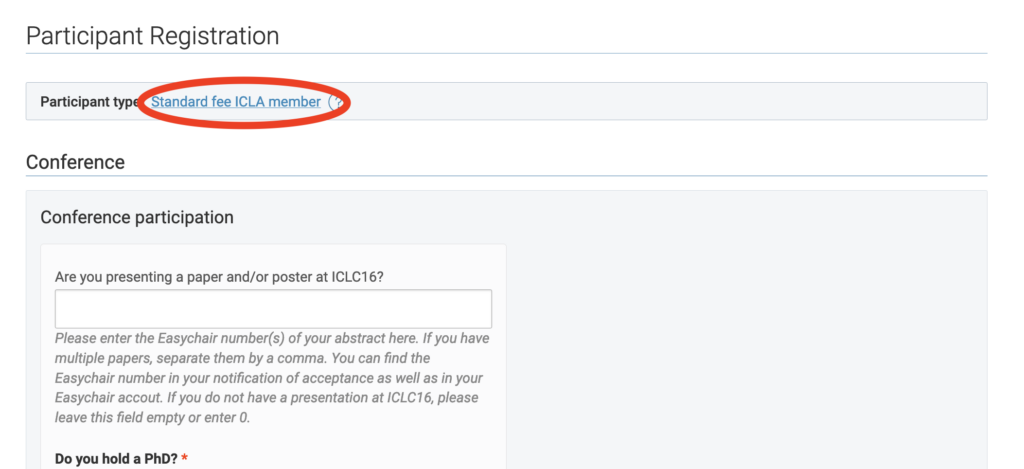 We have different fees for ICLA members and non-members, and we offer reduced conference fees for PhD students, unemployed colleagues, and colleagues from low-income countries.
You are eligible for a member rate if you are a member of the International Cognitive Linguistics Association. You can apply for membership at the ICLA website. Your membership status will be checked by the end of the registration period, i.e. you can choose a member rate now even if you are not yet a member, as long as you sign up for ICLA membership until July 2023.
The reduced fee applies to PhD students, unempolyed colleagues, and colleagues from low-income countries (according to the World Bank list 2023: Afghanistan, Burkina Faso, Burundi, Central African Republic, Chad, DR Congo, Eritrea, Ethiopia, Gambia, Guinea, Guinea-Bisseau, Liberia, Madagascar, Malawi, Mali, Mozambique, Niger, North Korea, Rwanda, Sierra Leone, Somalia, South Sudan, Sudan, Syria, Togo, Uganda, Yemen, Zambia).
Free attendance: Bachelors and masters students as well as employees of HHU Düsseldorf (including PhD students enrolled at HHU even if they are not employed here) can attend free of charge. In addition, accompanying persons of attendees with a disability as well as sign language interpreters can attend free of charge. Participants eligible for free attendance are still required to register. The conference dinner is not covered by the free attendance policy but can be booked separately during registration.
Early bird and late registration rates
The early bird period ends on May 31, 2023 (Central European Summer Time). Registration closes on July 31, 2023.
Conference dinner
You can also book the conference dinner via the registration interface. The conference dinner fee includes a three-course meal, two drinks, and great company. We have 400 seats for the conference dinner, which will be allocated on a first-come-first-serve basis. Apart from the traditional meat-heavy Rhenish cuisine, there will be vegetarian and vegan options. We will send a survey to all conference dinner participants in which you will have the opportunity to specify dietary requirements and preferences.